What you might need to know...
Each site is unique and priced accordingly.
Overnight Rates include accommodations for 1 RV, 1 vehicle and a maximum of 6 people(including guests). Additional vehicles must be parked in the overflow area and are subject to a charge of $20.00+hst, per day
We do not allow Day Guests for Transient Campers.
Pets are welcome in the resort; they must be leashed and tied on at all times unless utilizing the dog park.
Pets are not permitted in or on the pool deck. Service animals are welcome in our pet friendly cabin, 881.
Our overnight rates also include free WI-FI, a campers cord of firewood, and site-side garbage pick up twice per day!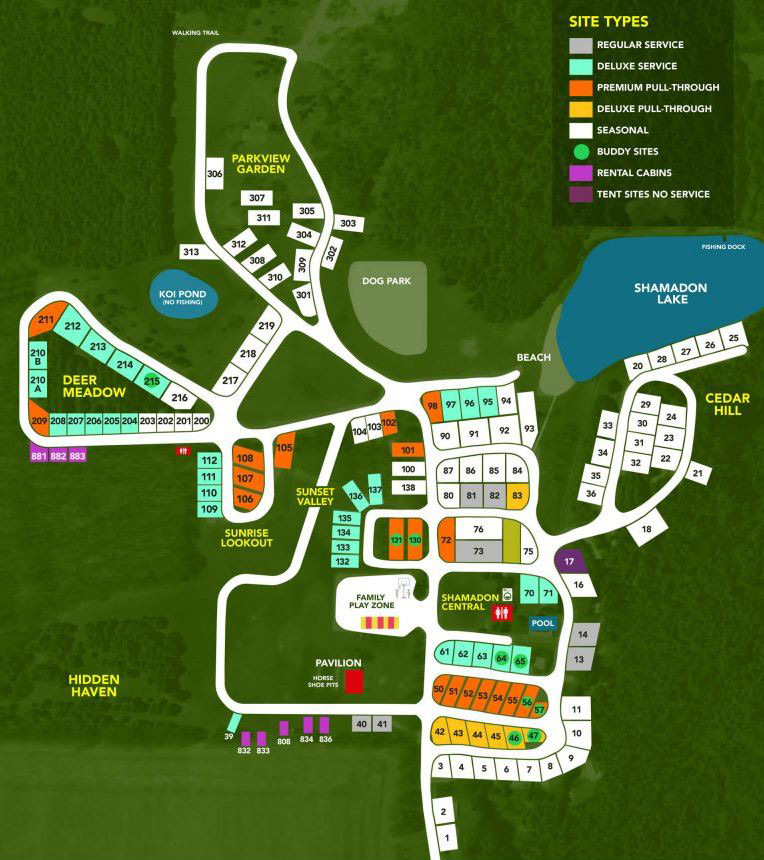 Each site is allowed up to a maximum of six people including visitors, one RV and one vehicle. 
We do not allow day guest for our Transient Campers.  
Visitors of our seasonal campers can park their car for free at the front parking area. 
Extra sleeping units (i.e. tents) must be registered at the time of booking. Additional fees apply.
All reservations are due payable at the time of booking via the issued payment link. 
Cabin or Cottage rentals, site reservations or any other booking inquires, please call 519.323.4592 or email reservations@shamadonresort.com 
Bookings that are less than 3 days on any long weekend are subject to a $40+tax surcharge per day.
Long weekends are to be considered Friday to Monday
Overnight Site Information
Check In time – 1:00 PM
We DO NOT allow after hour check ins. All campers will need to be registered and parked before the office closes.
Check
 OUT time – 11:00 AM
Quiet Hours (10pm-8am) strictly enforced
For individual pricing and site information, please see Our Interactive Map.
Our seasonal fees range from $5500.00 to $10,195.00 with a one-time pad entry fee that is paid when you first become a Shamadon seasonal!
For information on available seasonals sites; please review our 
A $500.00 administrative charge applies to a License of occupation transfer.
For individual site information and pricing of available seasonal sites please view Our Interactive Map.
Upon making your reservation here, you agree to abide by the following terms. In order to be fair to all campers, we have to enforce the following policy.
All reservations will be charged in full at time of booking.
In the event of a cancellation:
Reservations canceled 8 or more days before your scheduled stay will result in a refund of the paid amount less $30 per day as a reservation administration charge.

No refunds for reservations canceled 7 days or less before your scheduled stay.

Reservation on long weekends and holidays will be charged in full regardless of cancellation status (no refund

).
Unless you agree to the above terms, please do not use the online reservation system.