Find the site that is right for you!
Our Interactive Map Makes Choosing the Right Campsite Easy!
Determine which campsite type you are interested in by Hovering over each campsite for more information. Sites are color-coded; see the site type index at top of the map.
Select up to three camp sites by selecting a site and clicking Add Site.
Click "Reserve Now" to send those sites directly to our office so one of our friendly staff members can check availability and help you book the site.
Payment link will be emailed to you at time of reservation.
Please call our office with any questions at

519-323-4592

.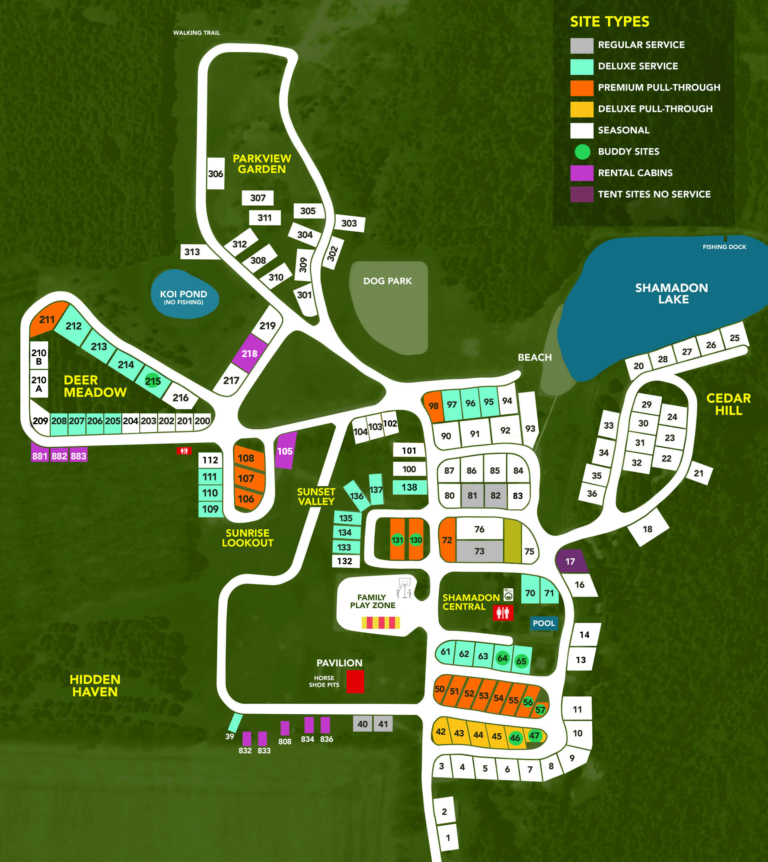 Group Facilities & Cabin Info
In addition to the many Seasonal and Transient sites that Shamadon Resort has to offer, our new group facilities make Shamadon an ideal choice for your party needs. Whether for family reunions, company outings or retreats, Shamadon Resort provides the very best in accommodation and entertainment.
Our cabins, which sleep 4 to 6 respectively, are each equipped with air conditioning, heaters, queen beds and a set(s) of bunk beds. They have full service electricity and water, with a bathroom with toilet for your convenience. Each has a kitchenette with sink, microwave and mini fridge, and for outdoor cooking, you will find a propane BBQ, fire pit and picnic table.
The cabins are also close to clean bathrooms with sparkling showers, as well as the swimming pool and the playground. A spacious pavilion, which easily holds up to 100 people with ease, is also available for rent. At the back of the pavilion, a fully functional kitchen features a stove with 4 burners and oven, two microwaves, a refrigerator, two kitchen-grade sinks and ample counter space for your cooking needs. This is the perfect environment to host your group's activities.
We are also pleased to introduce our wheelchair friendly cabin—Cabin 881—featuring wide doors, lower light switches, and a bathroom that is outfitted to be accessible to all.